MASSEY HALL REVITALIZATION UPDATE
PHASE II PLANS & ARCHITECTURAL RENDERINGS REVEALED

INSTALLATION OF STATE-OF-THE-ART RETRACTABLE SEATING
CREATION OF TWO ADDITIONAL SMALL MUSIC VENUES CONSTRUCTION OF PASSERELLES FOR IMPROVED PATRON ACCESSIBILITY
RESTORATION OF ORIGINAL STAINED GLASS WINDOWS


FOR MEDIA ASSETS, VISIT:
alliedmusiccentre.com/media-centre

(TORONTO – 19 October, 2017) – The Corporation of Massey Hall & Roy Thomson Hall is pleased to announce the exciting new details of Phase II of the Massey Hall Revitalization - a seven-year multiphase project to restore and renew both the interior and exterior of this National Historic Site, and construct a new addition, connected to the south of the building. This revitalization update includes new details about the enhancement of amenities for both artists and patrons, featuring the introduction of a state-of-the-art retractable seating system; the addition of two new venues - a 500 capacity artist performance venue in the south tower & a more intimate space in an expanded Centuries bar; the construction of passerelles for easy access to additional amenities; and the restoration of the original, 124 year-old stained glass windows.

"We are extremely proud and excited to share these new Massey Hall Revitalization details," said Deane Cameron, President & Chief Executive Officer of the Corporation. "With these improvements, our goal is to keep the original inspiration of Hart Massey alive by continuing to operate as an eternal gift for the people of Toronto and making the hall more accessible for patrons and artists alike."

Early architectural renderings illustrating these enhancements have also just been released, created by KPMB Architects, who as previously announced, have been spearheading the Massey Hall Revitalization project. "We will retain the qualities that make Massey Hall such a unique and vibrant performance space while complementing this treasured heritage venue with new spaces that will extend the role of the hall as a creative cultural hub," said Marianne McKenna, design lead, founding partner KPMB Architects. "The revitalized Massey Hall will offer educational opportunities and additional performance venues to host events and support new Canadian talent well into the future."

Local heritage and restoration advisors, as well as internationally renowned technical consultants have been hired to ensure that the original character and feel of this iconic cultural institution is not only preserved, but enhanced, using technology that just wasn't available over a century ago. All with the desire for Massey Hall to operate more efficiently, and remain culturally vibrant for another century and beyond.

NEW RETRACTABLE SEATING SYSTEM + GROUND LEVEL PARTERRE SEATING SECTION

The first noteworthy enhancement that patrons will experience is the hall's new seating flexibility: brand-new retractable seats that expand to a classic seating configuration, with greater comfort, or retract to allow a wide-open, general admission floor space.

"The ability to transform the orchestra level into a standing-room audience means a whole new category of acts will be attracted to Massey Hall," explains Clemeth L. Abercrombie, senior consultant at Charcoalblue, the theatre consultant company behind the renovation. "From a patron standpoint, you get a seating layout that respects the heritage of Massey Hall but uses a higher-quality seat and a system with more flexibility. And when you're in the standing room, it's an open floor with space all around."

For patrons who want to experience performances at ground level but still be seated at general admission shows, a raised parterre seating section will be built around the perimeter of floor.



NEW PERFORMANCE VENUES -As previously announced, the addition of the seven-story, south tower will house vital infrastructure, including artist dressing rooms, the venue's first modern loading dock, and additional technical capacities for larger, more complex touring productions.

Today, it was revealed that the south tower will also boast a new 500 capacity performance space on the fourth floor, offering a much-needed small music venue in the wake of recent closures in Toronto.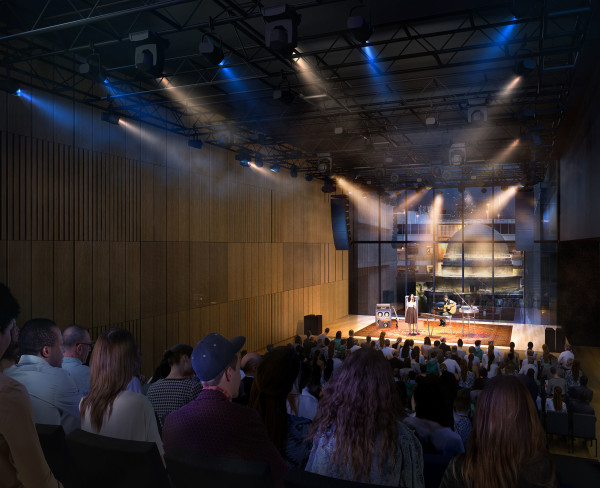 The main hall will also feature a smaller performance venue in the revered basement bar, Centuries, geared for more intimate artist and industry showcases.

"Because so many people want to live here (Toronto), and there are more developments, and rents are going up, it does put pressure on every independent business," says Ward 15 Councillor Josh Colle, also chair of Toronto's Music Industry Advisory Council. "Music venues face an added element: neighbourhoods that weren't heavily populated are now becoming home to lots of condos and lots of new residents who might be more sensitive to what they perceive as noise."

"I think most major cities around the world are finding that you want economic activity happening pretty much 24-7," adds Colle. "It makes a main street healthier and safer to have activity at different hours, and not just shut down. It's fitting that Massey would be the catalyst to make Yonge Street relevant again for music, because they've been there through everything."

PASSERELLE CONSTRUCTION - The south tower will also ease patron crowding and create greater accessibility with the construction of passerelles, attached to the original Massey Hall structure and connecting to much-needed additional washrooms (plus food & beverage concessions) that will be located on every level – instead of currently having to trek down three or four stairwells to the auditorium basement.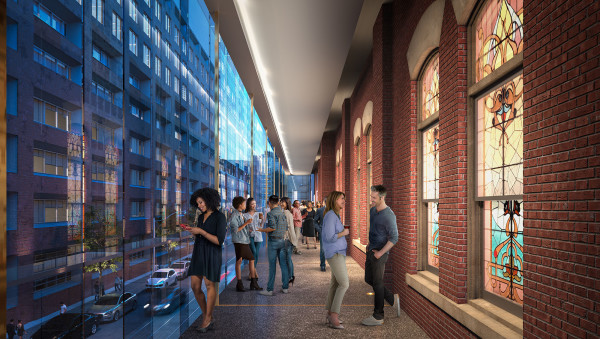 STAINED GLASS WINDOW RESTORATION - Also announced was the restoration of the 100 original stained glass windows, located on all four levels of the auditorium. Having been boarded up and concealed from view for over a century, it was only recently that they were uncovered as part of the Massey Hall Revitalization, and carefully prepared for restoration by teams of local stained glass experts.

"When the stained glass windows were uncovered it was really exciting," says Sharon Vattay, architectural historian with Goldsmith Borgal & Company Ltd. Architects, a Toronto-based firm specializing in the restoration, rehabilitation and adaptive reuse of heritage buildings & charged with overseeing the restoration of the century old Massey Hall stained glass. "The colours were remarkable, and the light was unreal."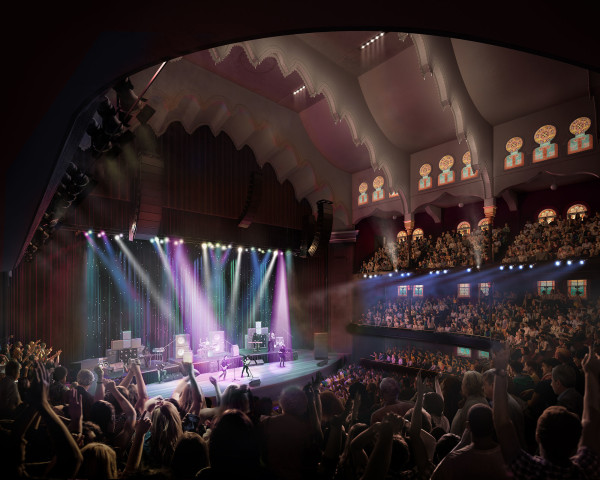 For more information on all of these new Massey Hall Revitalization details and more, read the second issue of SHINE A LIGHT, a just released publication featuring in-depth conversation with the advisory and consulting teams behind the project. PLUS, fantastic artist features with a conversation between Tanya Tagaq & July Talk, interviews with Sam Roberts, Melissa McClelland and a back page nod to Massey Hall penned by Great Lake Swimmers', Tony Dekker.

About The Corporation of Massey Hall and Roy Thomson Hall
The Corporation of Massey Hall and Roy Thomson Hall is a not-for-profit charitable organization operating two of Canada's premier concert halls. Showcasing the world's greatest performers in all disciplines, the two halls are also prominent venues for diverse activities in the business and entertainment district of downtown Toronto. Managed by a professional management team with a volunteer Board of Governors, the Corporation's mission is to provide a world-renowned environment to showcase international artists and entertainment; to provide public space for the cultural and corporate communities of the Greater Toronto Area; to support the development of Canadian talent; to increase and enhance its worldwide profile as a leader in the arts community through its professionalism and programming.

About KPMB Architects
Toronto-based KPMB Architects is notable for its unique hybrid form of architecture and practice. Their design solutions balance vision and pragmatism, environmentally responsible design and architectural excellence. As architects for many of Toronto's Cultural Renaissance projects, including the Royal Conservatory and Koerner Hall, TIFF, the Gardiner Museum, the Young Centre, and the National Ballet School, the practice has provided a substantial platform for the arts in Canada.

-30-

For media assets, visit:
alliedmusiccentre.mhrth.com/media-centre

For additional information & interview requests, please contact:
Mima Agozzino
Communications Manager
Mima.Agozzino@mh-rth.com
416-593-7904

60 Simcoe St, Toronto, ON M5J 2H5
masseyhall.com | roythomson.mhrth.com
liveatmasseyhall.com | @SoundboardTO